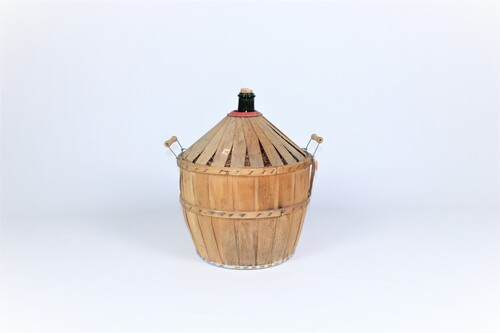 dame jeanne in wooden cladding, cognac Napoleon, 25 l.
---
Sorry, this product is not available anymore. Follow us on
Facebook
or subscribe to our newletter to discover our new arrivals.
---
Description

Green bottle, French demijohn (bonbonne). These were used to transport the spirits/wine directly from the Chateaux to the wine seller. In this case: Cognac Napoleon, 40°. The label is still on the handle: Maurice Van Moll, Grote Markt 9, te Lier.
Red metal ring: SGDG Perrin Fils Rognonas France Breveté.
Height +/- 55 cm, diam +/- 45 cm. In good condition.

Shipping Costs

in store pick-up only