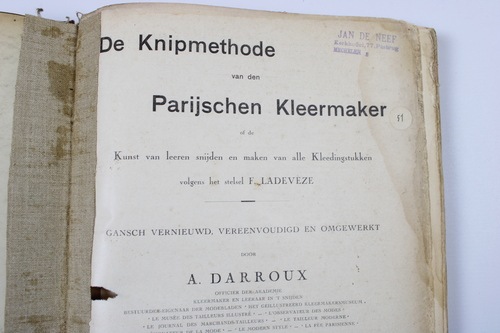 Old tailor book 'Ladevèze', 1915
---
Sorry, this product is not available anymore. Follow us on
Facebook
or subscribe to our newletter to discover our new arrivals.
---
Description

An old handbook for tailors from A. Darroux en Ladevèze (Paris, France, ca 1915, not dated).
"De Knipmethode van den Parijschen Kleermaker of de Kunst van het leeren snijden en maken van alle Kleedingstukken volgens het stelsel F.Ladeveze. Gansch vernieuwd, vereenvoudigd en omgewerkt door A. Darroux, officier der akademie - Snijschool te Parijs".
This book was owned by tailor Jan De Neef in Mechelen, Belgium.
Dim: 25*33 cm.
Shipping Costs

Shipment possible or pick-up at the store